Castello Sonnino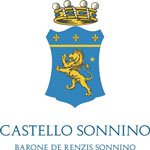 INFO

Via Volterrana Nord n.10 Montespertoli (FI)
Italia 50025
Telephone +39 0571/609198
Fax +39 0571/65702

Website – www.castellosonnino.it
E-mail – info@castellosonnino.it
Area planted with olive 12 hectares
Varietal composition of the olive groves: Frantoio 60%, Moraiolo 20%
Leccino 10%, Pendolino 10%
Mean annual oil production 25 ql.
Mean annual Laudemio production 5 ql.

The Castle of Montespertoli as it is known localiy, owned by the Baron de Renzis Sonnino family, is situated just outside the town of Montespertoli in the environs of Florence. It can easily be reached from the city by taking the Pisa-Livomo superstrada as far as Ginestra Fiorentina and proceeding towards Montespertoli: twenty minutes by car through the wonderful Chianti landscape. The seventeenth-century villa with its tower and fortifications, whose origins go back to the twelfth century, dominates the surrounding valley. Originally there was only a watchtower with a small garrison which controlled a stretch of the road from Volterra to Florence. The feudal lords were the Ghibelline counts Alberti, who felt into disgrace when the Guelf party gained the upper hand in Florence. Today, the point where the tower was chopped down can clearly be seen – this was the punishment far the defeated party. The castle and its outbuildings later passed to the Machiavelli family, and after another change of ownership it was acquired at the beginning of the last century by the Sonnino family. The Minister Sidney Sonnino lived here, and many famous visitors came to stay: Giolitti, Crispi, D' Annunzio, King Vittorio Emmanuele III and others, many of whom have left some memento of their visits. The complete archive of the statesman Sonnino is stilI preserved, with all his political and diplomatic papers concerning the entry of Italy into the First World War, and documents dealing with the Congress of Paris in 1916 and the Congress of Versailles in 1918. There is also documentation of the various improvements in winemaking and agriculture introduced at the turn of the century, when Tuscany began to produce wine and oil by more modern methods than those used in the rest of Italy. Today Castello Sonnino is a typical Tuscan farm of about 180 hectares, including 40 of vineyards and 18 of olive-groves. The greater part of the olive-groves had to be replanted after the great frost of 1985, and specially selected varieties were used.