CONTE FERDINANDO GUICCIARDINI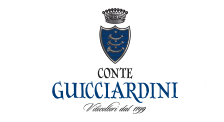 Castello di Poppiano is an impressive medieval building in the hilly area between Florence and Siena. It was built around 1000 AD and restored in its present shape and appearance at the end of the 19th century. For more than nine centuries it has been the property of the Guicciardini family.
The estate , situated on the hills around Castello di Poppiano, has been for centuries at the centre of the Guicciardini family's agricultural activity. In fact, although they were deeply involved in the public life of Florence, they had always lead their properties in the country.
A cross-section of the agricultural life in Poppiano in the Renaissance period is given by Lady Isabella Sacchetti's correspondence, the wife of Luigi, Count Francesco Guicciardini's brother , from which we learn that in 1400-1500 the cultivation of olive grove and grapevine was already important as the cultivation of cereals and cattle-breeding.
The estate has remained in the family from generation to generation, until Ferdinando, great gradfather of the present owner, gave it a great boost in the 19th century, rehabilitating the lands, setting up the wine cellar and improving the oil mill. This work was than carried on by Lorenzo and by Guicciardino, father of the actual owner, Ferdinando.
The olive groves of Castello di Poppiano are close to the northern limit of the Italian olive tree growing area. This means that yields are low (one bottle per tree ), but this is more than counterbalanced by the superb quality and the flavour.
The mill is still in its ancient location at the Castle, but it has been updated and improved several times through the years.
Castello di Poppiano oil has been repeatedly selected to represent the Tuscan Region in the Ercole Olivario National Contest (the most prestigious olive oil contest in Italy) and by winning this award several times in the "intensive fruity" category.
The feather in the Castello di Poppiano's cap is the Laudemio, a selection obtained from the best olive trees in the estate, those of Podere La Costa.
Podere La Costa covers an area of 15 ha of the 47 ha of olive groves of Castello di Poppiano. It was purchased by Messer Luigi Guicciardini il Vecchio on behalf of his son Niccolò on 1384, for 2300 gold "scudi" to be joined to the estate of the Castello Guicciardini in Poppiano.
INFO

Via Fezzana n. 43 Montespertoli (FI)
Italia 50025
Telephone +39 055/82315
Fax +39 055/82368

Website – www.conteguicciardini.it
E-mail – info@conteguicciardini.it
Olive varietals and their % : Frantoio 90%, Moraiolo and Leccino 10%
Olive groves surface: 47 ha
Total annual production: 100 Q.li
Laudemio annual production: 30 Q.li

Direct sale

OPENING DAYS AND HOURS
MON – SAT: 8.30a.m. – 12.00a.m. / 2.00p.m. – 6.00p.m.
SUN: 2.30p.m. – 6.30p.m.