Fattoria Pasolini dall'Onda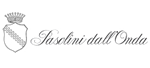 The estate of Barberino Val d'Elsa covers about 270 hectares, 40 of them devoted to specialised vineyards. Pasolini family acquired the property through the marriage of Count Guido Pasolini dall'Onda with Caterina dei Principi Borghese Borghese. High quality wines have been produced for over 400 years, as shown by agricultural records dated from as early as 1573.
The cellars are located in the undergrounds of Barberino, an ancient medieval castle, subsequently a fortified burg, on the border between Val d'Elsa and Val di Pesa. Here the traditional wines of Tuscany – Chianti, Chianti Classico and Vin Santo- are vinified, aged and refined in bottle.
The estate also produces an excellent IGT, red wine of Tuscany (a blend of Merlot and Cabernet Sauvignon), and two modern white wines based on Chardonnay and Pinot Grigio.
The centuries old production of extra virgin olive oil, which is considered by the discerning palates one of the best in Tuscany, continues today in the modern oil mill of the estate.
INFO

Piazza Mazzini n°10
50021 Barberino Val d'Elsa (Fi)
Italia 50021
telephone +39 055/8075019
fax +39 055/8075402

Website – www.pasolinidallonda.com
E-mail – info@pasolinidallonda.com
Laudemio Olive oil is made only out of the best olives, selected and picked up by hand in the olive-groves located in Montepetri and Fornace. Their varieties are Frantoio and Moraiolo. The same day of the crop, olives undergo the traditional stone ground pressing in the oil mill of Barberino's estate.
N° of olive trees: 2000
Ha: 6.00
Altitude: 280/300 m. above sea level

Services

Direct sale, oil and wine tasting, cellars and oil mill's visits