Fattoria San Michele a Torri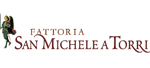 San Michele a Torri is a small village to the south-west of Florence on hills of the Val di Pesa. Its Prioria was constructed probably in early 1400 after the destruction of the castle of Torri by Castruccio Castracani. Restored in 1822, newly it was destroyed during the last war and so reconstructed.
On these hills punctuated of vineyards and olive groves, thanks to the favourable habitat for these cultivations, operates for a very long time the estate of S. Michele a Torri: traces of its presence have been found in documents of 1700 and it is demonstrated that it was already an important productive centre since 1800.
The estate of Saint Michele a Torri has developed in the course of the centuries from one medieval structure; the wine cellars with their cross vault of brick, the chapel of 1700, the neogothic well testify, in following of styles and amplifications, the presence and the labour of the man in a surrounding landscape of olive trees, vines and forests, remained almost unchanged in the centuries. The villa-estate has been recently restore with great attention and equilibrium.
Paolo Nocentini, the current landowner of the Agricultural Estate of San Michele a Torri, has given new impulse and development to the traditional agricultural activity renewing and widening the cultivations and addressing them to one biological production.
INFO

Via S.Michele 36 Scandicci (FI)
Italia
telefono +39 055/769111
fax +39 055/769191

website
www.fattoriasanmichele.ite-mail
info@fattoriasanmichele.it
Varietà di olivi e % di ciascuna: Frantoio 70%, Moraiolo 20% e Leccino 10%
Superficie oliveti: 20 Ha.
Produzione annua totale: 50 Q.li
Produzione annua Laudemio: 20 Q.li

Services

San Michele a Torri, Via S. Michele,36 – Scandicci (Fi)

DIRECT SELLING
San Michele a Torri, Via S. Michele,36 – Scandicci (Fi)

DAYS AND TIMETABLE OF OPENING:
MON – FRI: 15,30-19,30
SAT:10,00-12,30 15,30-19,30

Florence – Via dell' Agnolo, 101/r
DAYS AND TIMETABLE OF OPENING:
MON – SAT: 10,00-13,00 16,00-20,00

At the Estate S. Michele is possible to carry out guided visits with tasting of typical products