Fattoria Petrolo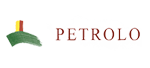 FATTORIA PETROLO is placed in the "Colli Aretini", a historical area bordering the Chianti hills, delimited in 1716 by the Grand Duke of Tuscany Cosimo III de' Medici as a particularly valuable land for wine and olive oil. Petrolo was part of the old medieval fiefdom of "Galatrona", place of extreme natural beauty and archaeological and historical importance.The Tower of Galatrona raised on top of  Roman foundations, stands-out restored from the remains of a medieval castle, dominating the hills covered in spontaneous vegetations of oak, chestnuts, holm-oaks, strawberry trees, ferns and hollies, surrounded by olives and vineyards.
In this scenary, the Pieve di Galatrona, an old romanic parish Church, can be found, which contains precious works by Della Robbia.
Petrolo covers 272 hectares, including 31 ha of specialized vineyards, 18 ha of olive groves and the remaining area of woods and arable land located at an altitude between 250 m and 400 m, where the soil consists of rocky stratifications of galestro.
The winery was bought by the Bazzocchi family in the 40s and since the end of the 80s the current owner Lucia Bazzocchi Sanjust joined by her son Luca Sanjust, has changed the production aims and methods to concentrate exclusively on results of the highest quality.
INFO

Loc. Petrolo, 30 Mercatale Valdarno – Bucine (Arezzo)
52021
Telephone +39 055/9911322
Fax +39 055/992749

Website – www.petrolo.it
E-mail – petrolo@petrolo.it

Petrolo has around 4500 plants of Frantoio, Leccino and Moraiolo varieties. The olive groves are cultivated using 2 different methods: 16 ha are placed on old terracing, many secular, using the vaso cespugliato cultivation method while 2 ha, after the 1985 freeze, were reconstituted with a new irrigated monocono cultivation.
The olive groves face east and northeast planted on stony hill soil of galestro at an altitude of around 350 m.
Harvest is carried out by hand within the first half of November. The olives are placed in perforated and well-ventilated crates and pressed daily in the olive mill with the "continuous" system. This procedure extracts the olive oil only by mechanical means: the olive paste, previously obtained by crushing and kneading the olives, is simply centrifuged separating the vegetable water and olive residues from the olive oil.
The anticipated harvest and daily pressing insures extreme quality and lovely intensity and keeps total acidity always below 0,2% in Oleic Acid.
The whole olive cultivation is organic and certified by the control body 'Suolo e Salute'. From 2009 Petrolo is also part of the Tuscan IGP consortium for

Extra Virgin Olive Oil
Petrolo produces two types of extra virgin olive oil: Petrolo IGP Toscano and Laudemio Torre di Galatrona.
"Olio Petrolo IGP Toscano" is made from olives belonging to the Frantoio, Leccino and Moraiolo varieties and bottled without filtration.
"Olio Laudemio" is made with 70% Frantoio olives and 30% Moraiolo olives and is filtered with cotton, simply by gravity.

Services

Petrolo is placed in an area full of charm and history with unique landscapes, under the medieval "Torrione" and next to the old romanesque parish Church of Galatrona with valuable works by Della Robbia. The Winery gives its historical Villa from 1700 and 3 independent farmhouses recently restored with swimming-pool, for charming vacations.
Between Florence, Siena and Arezzo Petrolo is the ideal base to discover the local art, the history, the food and wines and just relax soaking-in the natural comfort and well-being of our area, maybe diving in our swimming pools or getting to the near thermal baths
On request we would be pleased to take you for a visit of our suggestive cellars, taste and eventually buy some of our products: our fine wines, organic extra virgin olive oil and honey.
Petrolo can accommodate easily up to 60 guests in different houses:

– Villa Petrolo: 33 guests max in 16 bedrooms. It was Massimiliano Soldani, architect sculptor and medalist for the Medici, who built the Villa at the beginning of the 1700 as  his own residence. The Villa has a large private park, swimming pool and Tennis grounds surrounded by secular cypresses.

On request our family cooks can prepare for you some lovely and tasty Tuscan dishes in full or half-board.

– Costa: for 8 guests in 4 bedrooms all en-suite. It's a cottage offering swimming-pool and private garden with terrace with breathtaking views.

– Vigna & Feriale I: 2 farmhouses for 10 people each with private garden and swimming-pool.

– Feriale II:  the smallest of our apartments. Is for 4 people, also with private garden and swimming-pool.

Being winery, to our guests we offer free tours of our cellars and to the medieval Tower of Galatrona, landmark and symbol of the estate and it's wines.